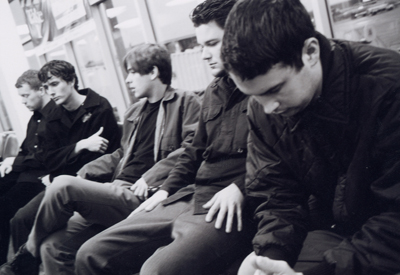 saw Seattle/Oklahoma's
Ester Drang
about two years ago opening for Eisley back in Tyler, TX. I liked what I heard then, but never pursued their music. Their tunes are saturated in pedal steel, drums, synths, everything it seems like. The singer's voice coats the entire thing to make a texture not unlike molasses. Their third album,
Rocinate
, comes out tomorrow on
Jade Tree
records. They were
Spin's Band of the Day
a couple days ago. Anyway, check them out, you'll probably like what you hear.
Come Back Alive
Valencia's Dying Dream
Speaking of Tyler, TX, if you're in the area, you should definitely check out this show that is happening Friday night (Jan 27th) downtown at Arcadia Coffee. Dallas's
Bosque Brown
is playing with local upstarts
The Artful Dodger
(my pal Jennifer plays the cello). Bosque Brown is going to be hitting town, so definitely go see them!