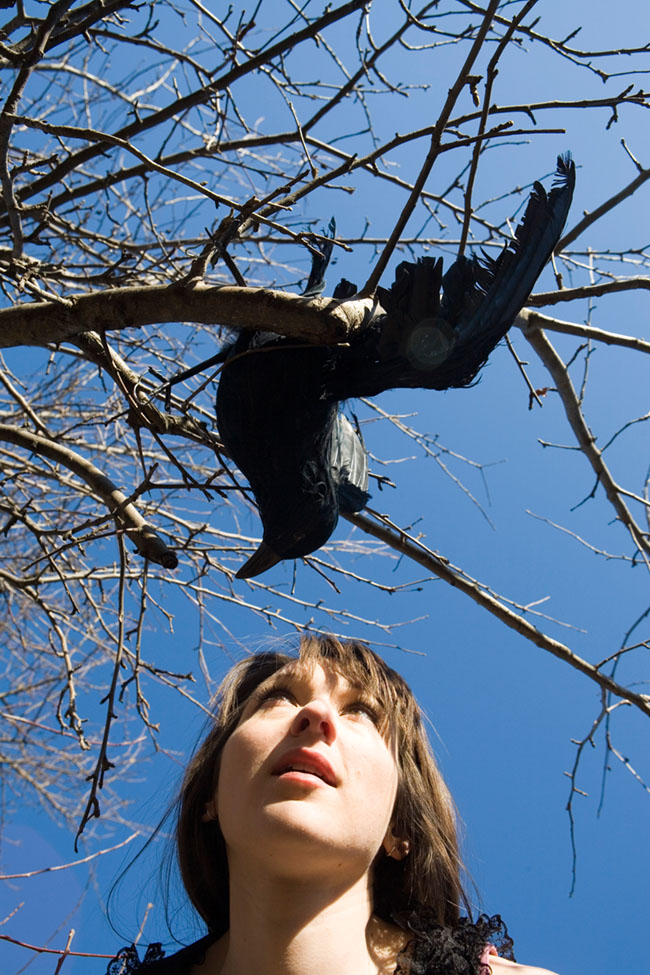 My li'l ol' friend Shara (aka
My Brightest Diamond
) will be releasing her cd
Bring Me the Workhorse
tomorrow on
Asthmatic Kitty
. If you don't already love her, read below and get with it.
"Her songs distil stories to their most distressing points of contact: a phone call, an injured horse, a dragonfly caught in a spider's web. She doesn't share all the information — just the stuff that matters. The effect is a sensational compression of time, in which an entire event is summarized in a single note. This, of course, is the essence of opera. But My Brightest Diamond is much more than that. There is also the humor one might find in an old TV episode of Wonder Woman or Lewis Carroll's Alice in Wonderland. Shara's songs reconcile all the complex emotions found in each of us: she can grieve as comfortably as she can laugh, sometimes in the same breath."
She's also laid down some vocal tracks for
Jedi Mind Tricks
' new album
Servants in Heaven, Kings in Hell
which streets on Sept. 19 on which they sample Sufjan's Steven's "Dumb I Sound."
If you're in New York get to her cd release party Thursday, August 24th 10pm @ Spiegeltent (www.speigelworld.com). I am SO jealous. Apparently, this is a 1920's tent with 1000's of mirrors and velvet. I couldn't think of a cooler show. Please someone take pics.
Shara + Carnivale-esque era venue = Don't miss this show!!
Or if you have to wait like me:
September 11, 2006 Nashville, TN - Ryman *
September 15, 2006 Austin, TX - Paramount Theater *
September 16, 2006 Austin, TX - Paramount *
September 19, 2006 New Orleans, LA - House of Blues *
September 20, 2006 Atlanta, GA - Fox Theater (PASTE Fest) *
September 21, 2006 Chapel Hill, NC - Memorial Hall *
September 23, 2006 Indianapolis, IN - Egyptian Theater *
September 24, 2006 St. Louis, MO - The Pagent *
September 25, 2006 Milwaukee, WI - Pabst Theater *
September 26, 2006 Chicago, IL - The Riveria *
September 28, 2006 Philadelphia, PA - The Towers *
September 29, 2006 New York City, NY - Town Hall * SOLD OUT
September 30, 2006 New York City, NY - Town Hall * SOLD OUT
October 09, 2006 Los Angeles, CA - The Wiltern * SOLD OUT
October 11, 2006 Berkeley, CA - Zellerbach Auditorium * SOLD OUT
October 13, 2006 Portland, OR - Crystal Ballroom *
October 14, 2006 Vancouver - Canada - St. Andrews Cathedral * SOLD OUT
October 15, 2006 Seattle, WA - Paramount *
*supporting Sufjan Stevens
When Doves Cry (Prince cover)
c/o
Ryspace.com
Dragonfly (Video)
(in quicktime)