Alright well Rapidshare is still being unbearably uncool so that update I was telling you about yesterday didn't happen. I feel bad for leading you on. Anyway, I will continue to try and upload the files online and when they are I will post that post.
Anyway,
Xiu Xiu's
album
La Foret
is coming out July 12th but I thought you might like a preview.
Muppet Face
Rose of Sharon (Grey Ghost version)
Dangerous You Shouldn't Be Here
Okay enjoy these and then
pre-order the album
; it comes out July 12th!! Or even better, buy it
directly from the source
when the time comes.
Go see them on tour!
Thu, Jun 16 Vancouver Mesa Luna
Fri, Jun 17 Calgary Broken City
Sat, Jun 18 Edmonton FreeMason's Hall
Mon, Jun 20 Winnipeg The Collective Cabaret
Thu, Jun 23 Montreal La Salla Rossa
Fri, Jun 24 Ottawa Club Saw
Sat, Jun 25 Toronto cabaret room@Poor Alex Theatre
Sun, Jun 26 Brantford the ford plant
Tue, Jun 28 Bloomington Rhino's
Wed, Jun 29 St Louis Lemp Neighborhood Arts Center
Thu, Jun 30 Kansas City The Black Door
Fri, Jul 1 Denver Larimer Lounge with good for cows
Sat, Jul 2 Salt Lake City Kilby Court with good for cows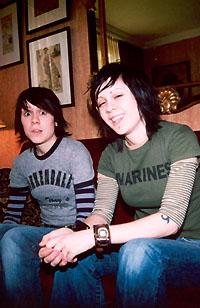 Also some
Tegan and Sara
mp3s, old and new:
Our Trees
Frozen
Living Room
I Won't Be Left
See T&S when they hit your town!! They have
the
cutest stage banter.
Jun. 26, 2005 New York, NY Central Park SummerStage w/Ron Sexsmith Free,
all ages
outdoor show in Central Park.
Jul. 8, 2005 Athens, GA 40 Watt Club w/Communique and Buddahead
Jul. 9, 2005 Chapel Hill, NC Cats Cradle w/Communique and Buddahead
All ages
Jul. 10, 2005 Norfolk, VA Norva Theatrer w/Communique and Buddahead
All ages
Jul. 12, 2005 Philadephia, PA Theatre of the Living Arts w/Communique
All ages

Jul. 13, 2005 Asbury Park, NJ The Stone Pony w/Communique
All ages
Jul. 14, 2005 New York City, NY Webster Hall w/Communique
All ages
Jul. 15, 2005 Somerville, MA Somerville Theatre w/Communique
All ages

Jul. 16, 2005 Clifton Park, NY The Northern Lights w/Communique
16+
Jul. 18, 2005 Washington, DC The 9:30 Club w/Communique
All ages
Jul. 19, 2005 Pittsburgh, PA Rex Theatrew/ Communique and Little Brazil
All ages
Jul. 21, 2005 Nashville, TN Dancin' in the District at Riverfront Park
All ages
Jul. 22, 2005 Columbus, OH Newport Music Hall w/Communique and Little Brazil
All ages
Jul. 23, 2005 Indianapolis, IN The Music Mill Cw/ommunique and Little Brazil
21+

Jul. 24, 2005 Chicago, IL Lollapalooza at Grant Park w/Cake, Weezer, the Killers, Dashboard Confessional and more
All ages
Jul. 26, 2005 Madison, WI Luthers Blues w/Communique and Little Brazil
18+

Jul. 27, 2005 Apple Valley, MN Minnesota Zoo Amphitheatre w/Communique
All ages
Jul. 29, 2005 Lawrence, KS The Granada w/Communique and Marjorie Fair
Jul. 30, 2005 Englewood, CO Gothic Theatre w/Communique and Marjorie Fair
All ages

Aug. 1, 2005 Los Angeles, CA Henry Fonda Theatre w/Communique
All ages

Aug. 2, 2005 Anaheim, CA House of Blues w/Communique
All ages

Aug. 3, 2005 San Francisco, CA Great American Music Hall w/Communique and Minipop
All ages
Aug. 4, 2005 San Francisco, CA Great American Music Hall w/Communique and Minipop
All ages