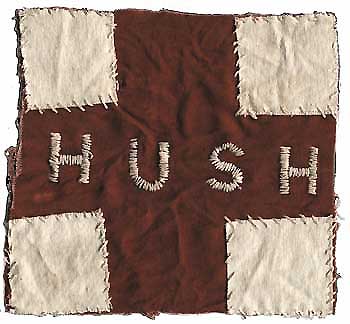 Okay so I loves me some
Hush Records
. I first came to know them through
the Decemberists
(who released their
Five Songs EP
and
Castaways & Cutouts
[to be re-released by
Kill Rock Stars
] on Hush) Their roster is composed of several great bands like Blanket Music, Reclinerland, Noise for Pretend, and solo artists like Corinna Repp, Kaitlyn Ni Donovan, and Jeff London. And then there's the alumni like Kind of Like Spitting, Norfolk and Western, and
Hush is run by Chad Crouch, the frontman of Blanket Music and his new project Toothfairy. Hush does music just like it's name says. The music is quiet and calming, occasionally louder but usually laid back with a bit of a jazz taste. It's all good chill-out, calm-down music.
They've got a busy year ahead of them. In July they're releasing a new album from Graves entitled
To Sur With Love
, Blanket Music has a new album this fall, Toothfairy will release something, lots and lots going on. They just released a compilation
Mile
which celebrates their fiftieth release. The compilation celebrates the past and future of Hush, with Hush rarities and sneak peeks at upcoming releases. The CD has fifty tracks, most of which are accessed by putting the CD in your CD-ROM.
Graves-Not Any More at Night
Graves-The Will Now
Amy Annelle-Will Try
Blanket Music-You Shouldn't Have Said That
Blanket Music-Bossa Rev
Kind of Like Spitting-Old Moon Meet New
Jeff London-Long Island
Noise for Pretend-Pants With His Halfway Down
The Places-Til the Death
Corina Repp-Finally
Unrelated:
Said the Gramophone
posted Wolf Parade's cover of the Frog Eyes song "Claxxon's Lament" from the Believer magazine compilation.
Wolf Parade-Claxxon's Lament