You know, the Pacific Northwest sure does have a lot of good record labels going on. Another one I've recently stumbled upon is the historically-minded
States Rights Records.
I don't remember exactly how I found them but I'm glad I did. I'm soon going to buy their new compilation "Bro Zone" if not mainly for the cool factor of getting a packet of Kool-Aid with a CD. Here's what they have to say:
"It's a summer time jam that features 30 blazing new tracks from 26 artists. It features so many awesome dudes such as States Rights stalwarts like Bobby Birdman, Dirty Projectors, Lucky Dragons, YACHT, Manta, Franz Prichard, Thanksgiving, Little Wings. Plus other amazing artists like Parenthetical Girls, Paper, Dear Nora, Casiotone for the Painfully Alone, Golden Shoulders, and The Kallikak Family. Plus new faces like Hooliganship, Jib Kidder, Atole, World, Cains & Abels, Kanda, S. American Agriculture and more."
Now, that sounds like a good compilation to me. And to seal the deal, the thing's only $5!! Or free when you order something else from them! Ridiculously cool.
Anyway, I guess it was through the Dirty Projectors that I found out about this awesome label. Also, I'd heard of Bobby Birdman before because of his work with Hush Records. He's one of the biggest people they have on there it seems. I also was surprised to see The Watery Graves on there. I'd seen and heard them once before from a warehouse show they played with Colin Meloy in 2001 or so.
From the
Bro Zone
compilation:
Bobby Birdman-I've Been Away
Hooliganship-Tropycal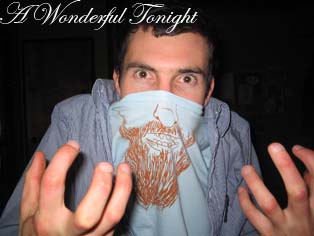 Assorted mp3's from SRR.
Thanksgiving-The Ghost and the Eyes
Little Wings-Come Alone
YACHT-Remember What This Feels Like
YACHT-Sometimes I Doubt Your Commitment to Sparkle Motion
The Phallacees-Mount Fuji
(featuring Dave Longstreth of the Dirty Projectors)
These are a couple songs Bobby Birdman covered on a digital camera.
Wonderful Tonight
live at a karaoke bar
Runaway
live from a chapel at Reed college