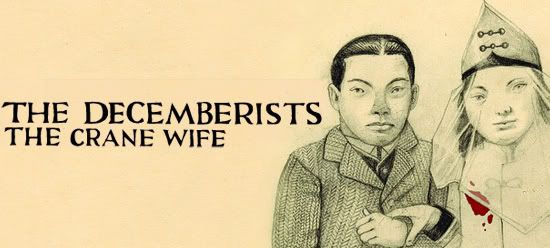 The Decemberists'
The Crane Wife
FINALLY hits stores today! It's been over a year since we got
Picaresque
and this is the band's first album on major label Capitol. Thankfully, Capitol gave the band artistic freedom enough to include a few epic songs and breezy pop songs too. Well, as pop as wordy folktalkes can be.
Summersong
Listen to the whole album at MTVu.
The Killers'
Sam's Town
has gotten a lot of bad reviews. The band's departure from the
Hot Fuss
sound has a lot of people upset. I'm willing to give the album a try, since I've fallen for "When You Were Young" pretty hard. Sure the lyrics may be a little on the cheesy side, that synth line has me hoooked.
Find songs on
The Hype Machine
.
There's some other stuff out today buuut these are the two I've been looking forward to. Hold Steady, Mold Schteady.
Buy
The Crane Wife
&
Sam's Town
from
Insound
.