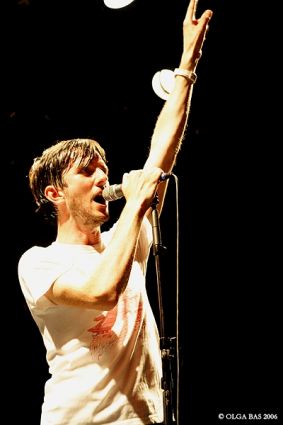 The Rakes
new album
Ten New Messages
is set to be released this March. At the helm are Jim Abbiss & Brendan Lynch who've produced Arctic Monkeys and Primal Scream. Lead singer Alan Donahoe said the album is a "combination of choral music, the television show
24
, (James) Bond theme tunes, World War 1 poets and the Sugababes".
"It's a bit more focused than the last album. It has the same sort of lyrics but its more character driven," Donohoe told NME.COM. "We've got this one song called
When Tom Cruise Cries
. Its about media sensationalism on one level but on another level its about how actors can be so believable you get into an emotional relationship with them when they're only acting. I got the idea for this from the scene at the end of
Magnolia
when he's rying at his sick father's bedside."
They'll be
touring in the UK
in March. Hopefully, when they come to the states, they'll hit more than 7 cities or whatever it was. Didn't you guys have fun at SXSW? That's where we fell in love. Don't you remember?
22 Grand Job (Filthy Dukes Society mix)
Let's Dance w/Lilly Allen (Bowie cover)
T Bone (bonus track)