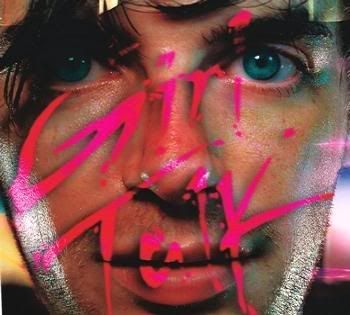 If you are a
Girl Talk
fan, there is a new release this week that you may want to run out and buy.
Greg Gillis
(aka
Girl Talk
) and
Frank Musarra
(of
Hearts of Darkness
) have mixed 15 years worth of
Thrill Jockey
artists' music and compiled it on a cd under the moniker
Trey Told 'Em
. This cd is super limited edition (only 4,000 made). Most of them were sold at the Thrill Jockey anniversary shows in Chicago & London and through mail-order, but a very very small number are being sold through retailers. It's called
Super Epic Thril Jockey Mega Massive Anniversary Mix
by
Trey Told 'Em
.
Stream the new album through
his myspace
, or you can also pay what you want for the new Girl Talk album
Feed the Animals
, ala Radiohead through
this link
. If you pay more than $10, you automatically get a physical cd.
Upcoming tour dates:
| | | | | |
| --- | --- | --- | --- | --- |
| Wed07/23/08 | Sugar | Victoria | BC | |
| Thu 07/24/08 | Commodore Ballroom | Vancouver | BC | Twin Crystals |
| Fri 07/25/08 | Capitol Hill Block Party | Seattle | WA | |
| Sat 07/26/08 | Roseland Theater | Portland | OR | Panther, Monkey Trick |
| Sun 08/03/08 | Lollapalooza 2008 | Chicago | IL | |
| Fri 08/08/08 | All Points West Festival | Jersey City | NJ | |
| Thu 10/09/08 | Starlight Ballroom | Philadelphia | PA | Grand Buffet, Hearts of Darknesses |
| Fri 10/10/08 | 9:30 Club | Washington | DC | Grand Buffet, Hearts of Darknesses |
| Sat 10/11/08 | Sonar | Baltimore | MD | Grand Buffet, Hearts of Darknesses |
| Mon 10/13/08 | Cats Cradle | Carrboro | NC | Grand Buffet, Hearts of Darknesses |
| Tue 10/14/08 | Orange Peel | Asheville | NC | Grand Buffet, Hearts of Darknesses |
| Wed 10/15/08 | Valarium | Knoxville | TN | Grand Buffet, Hearts of Darknesses |
| Thu 10/16/08 | Variety Playhouse | Atlanta | GA | Grand Buffet, Hearts of Darknesses |
| Fri 10/17/08 | House of Blues New Orleans | New Orleans | LA | Grand Buffet, Hearts of Darknesses |
| Sat 10/18/08 | Warehouse Live | Houston | TX | Grand Buffet, Hearts of Darknesses |
| Mon 10/20/08 | Emos | Austin | TX | Grand Buffet, Hearts of Darknesses |
| Tue 10/21/08 | Palladium Ballroom | Dallas | TX | Grand Buffet, Hearts of Darknesses |
| Thu 10/23/08 | Rialto Theater | Tucson | AZ | Grand Buffet, Hearts of Darknesses |
| Fri 10/24/08 | Henry Fonda Theater | Los Angeles | CA | Grand Buffet, Hearts of Darknesses |
| Sat 10/25/08 | Henry Fonda Theater | Los Angeles | CA | The Death Set, CX KiDTRONiK |
| Mon 10/27/08 | The Fillmore Auditorium | San Francisco | CA | Grand Buffet, Hearts of Darknesses |
| Tue 10/28/08 | The Fillmore Auditorium | San Francisco | CA | The Death Set, CX KiDTRONiK |
| Thu 10/30/08 | In The Venue | Salt Lake City | UT | The Death Set, CX KiDTRONiK |
| Fri 10/31/08 | Ogden Theater | Denver | CO | The Death Set, CX KiDTRONiK |
| Sat 11/01/08 | The Granada Theatre | Lawrence | KS | The Death Set, CX KiDTRONiK |
| Mon 11/03/08 | First Avenue | Minneapolis | MN | The Death Set, CX KiDTRONiK |
| Tue 11/04/08 | Turner Hall Ballroom | Milwaukee | WI | The Death Set, CX KiDTRONiK |
| Wed 11/05/08 | Canopy Club / Club Void | Urbana | IL | The Death Set, CX KiDTRONiK |
| Thu 11/06/08 | Cannery Ballroom | Nashville | TN | The Death Set, CX KiDTRONiK |
| Fri 11/07/08 | Headliners Music Hall | Louisville | KY | The Death Set, CX KiDTRONiK |
| Sun 11/09/08 | Bogarts | Cincinnati | OH | The Death Set, CX KiDTRONiK |
| Mon 11/10/08 | Beachland Ballroom | Cleveland | OH | The Death Set, CX KiDTRONiK |
| Tue 11/11/08 | Eagle Theatre | Pontiac | MI | The Death Set, CX KiDTRONiK |
| Wed 11/12/08 | Koolhaus | Toronto | ON | The Death Set, CX KiDTRONiK |
| Thu 11/13/08 | Club Soda | Montreal | PQ | The Death Set, CX KiDTRONiK |
| Fri 11/14/08 | Showcase Live | Foxborough | MA | The Death Set, CX KiDTRONiK |