Bitchfork
sure has a lot of nice/redundant news today. What with three tours from three cool bands (White Stripes, Sleater-Kinney, Iron and Wine) none of which will touch Texas, and the tours of the equally awesome
Spoon
and
The Killers
, who will roll through Dallas June 24 at Gypsy Tea Room and August 17 at Nokia (respectively). Bitchfork also mentions something about Flowers & co. doing a horror movie? I read he enjoyed the Ring immensely...didn't think he'd take it into his own hands though. Damn you Bitchfork!
Sooo today I think I may treat you. I will give you tastes of each of the bands I have mentioned today:
White Stripes-"Take, Take, Take"
White Stripes-"For Ever For Her (Is Over For Me)"
Sleater-Kinney-"Entertain"
Sleater-Kinney-"Entertain" video
(Quicktime Hi-Res)
Iron and Wine-"Sleeping Diagonally" (Six by Seven cover)
Iron and Wine-"Jezebel"
Spoon-"Revenge!"
Spoon-"I Turn My Camera On"
The Killers-"Under the Gun"
The Killers-"Show You How"
Paris x2 engaged!!
Congrats.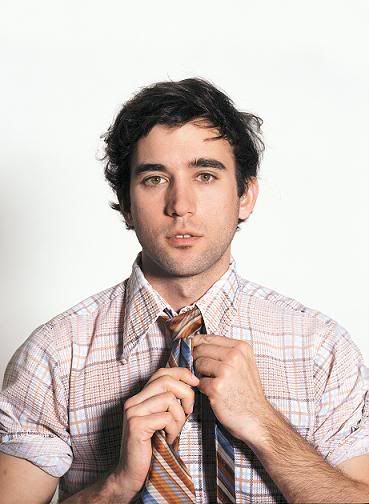 Now children, I need to have a serious talk with you about
Sufjan Stevens
. I am a pretty recent convert myself. I picked up his album
Seven Swans
and fell in love, not instantly, but surely. As soon as I had listened to it a few times through, it was imprinted in my brain. I couldn't stop listening. I heard about his magnificent promise to dedicate an entire album to each of the fifty states and was amazed. I couldn't find his first,
Welcome to Michigan
, but continued to love
Seven Swans.
And then I heard about his new album,
Sufjan Stevens Invites you to: Feel the Illinoise!
, slated for release July 7th.
Sufjan's own label, the awfully cute
Asthmatic Kitty
, that released his first 50 States album and will release
Illinoise
experienced some minor difficulties. They had been taking pre-orders and soon realized their offices could not hold all of the packages that had been pre-ordered. So they decided to go ahead and send out the album to those that had pre-ordered it. I myself didn't have the foresight to pre-order so I have no reward, but I do have mp3's from it. I am pretty much sure that
Illinoise
will be number one on my year-end list for 2005.
Here's a couple mp3's from
Illinoise
:
Sufjan Stevens-"Casimir Pulaski Day"
Sufjan Stevens-"They Are Zombies!! They Are Neighbors!! They Have Come Back From the Dead!! Ahhhh!"